DAYDREAMING
Love, Fear and the Time Machine, Eye of the Soundscape
Love, Fear and the Time Machine, Eye of the Soundscape
Mariusz used some spare time in early summer 2014 to record the fourth Lunatic Soul album titled "Walking on a Flashlight Beam", which he composed between January and April. In June, when the band had a short break, he recorded nine new songs, this time with almost no outside help. The only other musician invited to the studio was Wawrzyniec Dramowicz, who drummed on only three songs. This time Duda had a very precise idea about the musical form and the literary concept, writing about solitude and separating oneself from the outside world. He wrote the entire album, played on almost all instruments and produced the record along with Magda and Robert Srzedniccy. "Walking on a Flashlight Beam" was released in September, got rave reviews and was almost unanimously rated as the best and most mature LS album.
In August and September, the band played some festival shows, including a concert in Grudziądz, where they performed before Sabaton, and on "Summer Dying Loud" in Aleksandrów Łódzki. The last quarter of the year was devoted to work on new songs. This time, the entire album was to be composed by Mariusz, who had a very creative period in life and once again decided to come up with a precise musical and lyrical concept. In December, the band already had an 8-song demo. In many ways, this new music was a continuation of the path the band had chosen on "SoNGS" (shorter forms, departure from long progressive suites without compromising the quality of new compositions), but this time Riverside was referring to tones characteristic of the 80s, especially electronic music and alternative rock. All these influences and variations were skilfully mixed with characteristic features of Riverside's music.
The recordings were made in the spring of 2015 in Serakos. Production duties were handled as usual by Mariusz Duda, Magda Srzednicka and Robert Srzednicki. Fans had a chance to hear some new songs before the album's release at Metal Hammer Fest that took place in June at Katowice's Spodek Hall. Riverside performed alongside Dream Theater and a few other acts. The setlist included "Lost" and "Discard Your Fear" – two new tracks from the then still unreleased "Love, Fear and the Time Machine" album.
The record went on sale on 4 September. It was their first album to include ten songs and the first not to include a song over eight minutes long. Total running time was one hour (sixth album, sixty minutes, a six-word title).
Lost (Why Should I Be Frightened by a Hat?) – nostalgic, catchy melody nicely introduces a somewhat melancholic optimism, thus determining the mood of the whole album. At first glance, it's a simple, concise song, but its melody, dynamics and flawless performance are top class. Lyrics refer to Antoine de Saint-Exupéry's "Little Prince". Also worth noting is an excellent guitar solo by Piotr Grudziński.
Under the Pillow – A simple rock song derived from a subtle guitar lick. Duda sings mildly, but the whole songs naturally goes towards more hard rock choruses. Lots of characteristic Riverside sounds – some heavy Hammond played by Łapaj, a nice, short guitar solo by Grudziński. The whole thing ends with a short but expressive instrumental part.
#Addicted – catchy, short song which sees the band flirting skillfully with some of their influences. On the one hand, high-pitched vocals in the chorus refer to A-ha, on the other hand, the dynamic rhythm section is a nod to alternative rock and bands such as The Cure. Riverside effectively brings the spirit of the 80s into the sound of the 21st century. Lyrics refer to obsessive communication habits and the constant need to check in everywhere on social media.
Caterpillar and the Barbed Wire
– a huge bass figure opens the fourth track of the album. It's one of the most interesting songs in the band's entire catalogue. Clever construction, logical transition between different parts of the composition and sophisticated melodies reveal the band's growing mastery of composing longer pieces. Skillfully crafted emotions, unconventional choruses and a brilliant, dynamic instrumental section show Riverside in top form. Duda sings about getting free from toxic, restrictive relations.
Separate Me – a longer track, perhaps one that refers the most to the band's older work. Riverside goes back to prog metal and hard rock sound and the track's dynamic instrumental parts are well balanced by Duda's gentle voice that underlines the good melody of the main theme. Apart from the polyrhythmic beats by Kozieradzki, we also have some characteristic Grudziński licks and – as usual – some fine harmonies played by Grudzień and Łapaj.
Afloat – a dreamy and dark turning point of the album, a bit Lunatic Soul-like. It separates the first, dynamic part of the record, from the second, calmer one.
Discard Your Fear – a shorter track that includes many best-known features of Riverside's music. A good, catchy melody fits well with a strong, expressive rhythm. In the background, we have an intriguing dialogue between Łapaj and Grudzień. There's also a good chorus that works well in a live setting, and a heavier, almost metal section towards the end, where Kozieradzki hits his drums harder and Grudziński's guitar sounds more aggressive. As a matter of fact, Grudzień shows a whole variety of sounds here, from alternative rock and metal to post rock.
Towards the Blue Horizon – the longest, most varied and complex composition on the album. It's here that the band comes closest to a progressive mini-suite, but this one does not copy the formula typical for Riverside's previous long compositions. This time we get a subtle acoustic ballad mixed with an aggressive prog metal instrumental section, where Grudziński's heavy guitar attacks along with Kozieradzki's progressive beat. Łapaj does not come forward with his keyboard sounds, instead building an expressive background with choral chords, thus giving this piece a dark and somewhat mournful tone. Lyrically, it's one of Duda's most nostalgic and direct pieces of work. He refers to his own childhood memories and his youth, at the same time saying goodbye to a deceased friend from Wegorzewo, Grzegorz Kokocha, who passed away a year earlier.
Time Travellers – from the early days, an acoustic ballad has been one of Riverside's secret weapons. Mariusz Duda has always composed primarily on acoustic guitar, creating melodies without unnecessary musical ornaments. He managed to lead this musical form to perfection. "Time Travellers" is not only Riverside's best ballad, but it's also one of the most skillfully crafted songs in the history of Polish rock. The songs personal lyrics refer to a time machine. Just like in "Towards the Blue Horizon", Duda goes back to his childhood and early youth. "Let's go back to the world that was thirty years ago and let's believe this is our time…".
Found (The Unexpected Flaw of Searching) – a simple song that gives the band a chance to charm their listeners with its subtle form. But we'll also find a nice solo by Grudziński, which gives some new color to the middle section. It was written towards the end of the recording sessions and was supposed to give the album an optimistic ending. The centre piece of this song would have to be the repeated line: "It's a lovely life". This is probably first such optimistic closure on Riverside's album.
No long suites this time, but still with a full palette of colors, sounds and moods. The band presented all of its best known characteristics using a typical, although maybe a bit more complex, song format. It was really hard to find a negative review of this album, most of them gave Riverside perfect or almost perfect notes. The press praised the band's intelligent evolution and the fact that the musicians perfected their characteristic sound. "'Love, Fear and the Time Machine'" seems to be the best album released by Riverside" – wrote Michał Kirmuć in "Teraz Rock" magazine. "It's a true masterpiece" – added Artur Chachlowski, writing for the Polish edition of "Metal Hammer".
The album spent more than two months on Poland's best-sellers list, reaching the second spot. The sales were the highest in the group's history. But the interest in the band was also noticeably higher in other countries, with Riverside claiming high spots in Holland and Germany and entering album charts at record-high positions also in France, Belgium, Switzerland and Austria, among others. There was no time to celebrate. When the album was released, the band was already touring, playing in front of new audiences in The United States and Latin America. Even so far from home, Riverside could attract respectable crowds. Over a thousand people saw the band perform in both Mexico and Chile. Band members agreed that the autumn 2016 leg of "Time Machine Tour" was their best ever. Thanks to the ever evolving visual and lighting effects, this new show catered to even the most demanding audiences. This part of the tour ended with three Polish shows – in Cracow, Gdańsk and Warsaw – seen by a total of over five thousand loyal fans. All three shows were sold out.
That great year ended with a show played at the modern Centrum Kultury Jordanki hall in Toruń. There were also numerous awards waiting for the band. Riverside crushed the competition in the annual "Teraz Rock" readers' poll, winning in five categories: band, singer, album, song and concert of the year. Polish fans appreciated both the new album and the band's live show. Riverside also appeared on the covers of Poland's most popular music magazines – "Teraz Rock", "Metal Hammer" and "Lizard".
Prospects for 2016 were even better, with highly ambitious touring plans – Polish gigs in April followed by a big American and European tour. But there was no time to recharge the batteries. Since the early days of January, Duda, Grudziński and Łapaj were working at Serakos studio on a new album. This time without Kozieradzki, as it was planned to be a record filled with electronic and ambient music, first traced in the band's catalogue on the title track off "Rapid Eye Movement" and later found on "Night Session" and "Day Session". The idea was to release a double album filled with older ambient tracks, previously available on "SoNGS" and "Love, Fear and the Time Machine" bonus discs, with the addition of four entirely new compositions.
The trio worked with great enthusiasm, creating new sounds far removed from traditional rock. Unfortunately, a tragedy struck only a few days shy of the "Eye of the Soundscape" session's end. On 21 February, Piotr Grudziński passed away due to pulmonary embolism. All plans had to be changed, work on the album postponed, all shows cancelled.
Piotr Grudziński's premature death shocked not only other members of the band but also thousands of fans around the world. The funeral took place on 29th February. The band announced there would be no concerts throughout 2016, but the new album would still be released as planned. Work on "Eye of the Soundscape" was finished without Grudzień. Luckily, he recorded almost all of his planned parts, so the new tracks – especially "Where the River Flows" and "Eye of the Soundscape" – are the last to feature his unique guitar sound.
2016 was the year of mourning, but it's also worth noting several significant premieres, nominations and awards. In March, "Love, Fear and the Time Machine" was nominated for the Fryderyk award in "Rock Album" category. The statuette went elsewhere but it was the band's first nomination for this prestigious award, marking Riverside's presence at the forefront of Polish pop culture. More good news came a few months later from the U.K. Popular "Prog Magazine" awarded the band in the "Song of the Year" category for "Towards the Blue Horizon".
Summer saw the release of a new 5.1 mix of "Love, Fear and the Time Machine", complete with a new version of the artwork in slightly warmer colors. "Eye of the Soundscape" went on sale in October. Two discs included 12 compositions with total running time of about 100 minutes. The album comprised mostly older compositions recorded during "Rapid Eye Movement", "Shrine of New Generation Slaves" and "Love, Fear and the Time Machine" sessions, but also included half an hour of new music on four tracks: "Where the River Flows", "Shine", "Sleepwalkers" and "Eye of the Soundscape".
In November, Meller, Gołyźniak, Duda project released their first album, "Breaking Habits". The trio worked on it irregularly for the past 3 years, whenever they could find some time in their busy schedules. The album showed a slightly different face of all three musicians – music was more spontaneous, hard rock, with a touch of psychedelia. "Breaking Habits" included some hard rocking pieces alongside bluesy ballads and instrumental psychedelic jams. Apart from working with Meller (ex Quidam) and Gołyźniak (Sorry Boys), Mariusz was already planning the next Lunatic Soul album.
This time, the unexpected break was also used well by Michał Łapaj, who visited Serakos studio a few times in the second half of 2016 to record some music for his first solo album. Mittloff decided to open his own record store called "Vintage Vinyl".
November also saw the premiere of the band's official biography, "Sen w wysokiej rozdzielczości" ("Dreaming in High Definition").
In autumn, the band announced first dates for 2017. Riverside was to play two shows in late February at Warsaw's Progresja club to commemorate the first anniversary of Piotr Grudziński's death. Four thousand tickets for those shows were sold out in a flash (the first show sold out within four hours!). The band started rehearsing with the help of Maciej Meller as Riverside's main guest and touring guitar player.
Since January, preparations for the February shows got into top gear. Apart from Meller, the rehearsals were also attended by Lion Shepherd's guitar player Mateusz Owczarek and saxophonist Marcin Odyniec who were also to appear during the first shows.
The band's mourning period concluded with two shows played as a tribute to Grudzień on 25 and 26 February 2017. Both concerts included the same setlist with well over two hours of music played each evening. Riverside was greeted with huge ovation from four thousand people (apart from Poles, there were fans from the U.S.A., Canada, Austria, Germany, Holland, Spain, France and other countries). Warm welcome extended to all the guests, particularly to Maciej Meller who was announced as the band's touring guitar player for all 2017 shows.
The band really came back to life after those two well-rehearsed nights at Progresja. A new tour was announced – the first in one and a half years. Towards the Blue Horizon Tour kicked off with a Polish leg in April, continuing with shows in Western and Southern Europe as well as the U.K. More shows are planned for summer and autumn of 2017.
Shrine of New Generation Slaves
Shrine of New Generation Slaves
The band worked diligently on new songs. For the first time Riverside recorded sketches of new tunes at an early stage of composing. "I wanted to check what's our position and whether we have enough material for an album – Mariusz explained. I had an idea for this record, I knew what I wanted on it in terms of music, but I had some trouble coming up with songs. We had a few bits that we rehearsed, but none of it was finished and there wasn't much of it anyway. I spent a lot of time trying to put those bits and pieces together, I wrote some new stuff, checked our archives looking for some fragments that would fit. When I felt we had enough sounds, I decided to record early sketches using a drum machine."
One of those sketches evolved into "Escalator Shrine". After going through all the ideas for "SoNGS", Duda decided that the album could use more dynamics in its final part, so the band wrote this mini-suite at the eleventh hour.
Recordings were made in autumn – the band was happy to go back to Serakos Studios. The studio, owned by Magda and Robert Srzedniccy – had been moved in the meantime from Warsaw's Praga district to peaceful and picturesque Kabaty area. New building, better suited for recording music, and modern equipment made work in Serakos a lot more comfortable and pleasant. As the musicians were fully dedicated to creating a new album, 2012 was the first year with no Riverside concerts since the band's formation.
First sounds were made available to the listeners in December 2012. The new single, "Celebrity Touch", made it clear that the band was headed in a new direction. Dynamic rhythm resembled the work of such bands as Led Zeppelin or Deep Purple, far away from progressive rock or prog metal. A video clip was produced for this track, directed by Mateusz Wikiel. "Shrine of New Generation Slaves" – Riverside's new album – was released a month later, in January 2013.
New Generation Slave – strong opening of the album. Although it's not particularly fast or loud, the opening sounds create an atmosphere of a musical celebration. First two minutes resemble a gospel confession stressed by monumental guitar riffs. Then the track turns into a dynamic, hard rock song, only to go back to the "gospel confession" mood at the very end.
The Depth of Self-Delusion – a ballad filled with charmingly romantic melodies. There's some acoustic guitar and some traces of progressive rock with slight elements of folk music. The band chooses a different approach to a ballad structure. The keys are hidden behind thick guitar sounds, they don't define the sound as it was in the case of "In Two Minds" or "Conceiving You". This new approach did great with the listeners of Polish Radio 3 and the song made it to the top of the legendary PR3 charts hosted by Marek Niedźwiecki and Piotr Baron.
Celebrity Touch – the folk imagery of the previous track is suddenly destroyed by a loud, dynamic, hard rock riff and aggressive vocals. The band shows how to do a modern song that combines elements of classic hard rock with space and mysterious subtlety of progressive music. Grudziński switches between raw, predatory riffs and yearning melodies. Likewise Duda's bass – balancing between noisy motifs in the style of Led Zeppelin and Deep Purple, and pulsating, hypnotic moods of Pink Floyd or early Porcupine Tree. Lyrically, the track focuses on celebrities and their constant urge to be in the center of attention. A video clip was produced, exposing in a somewhat exaggerated way what happens at celebrity banquets, comparing celebrities to decaying zombies.
We Got Used to Us – a simple song with some commercial potential. Cold and a bit dark ballad with some psychedelic sounds and plain piano melody at the beginning, sung by Duda with intense dedication. There's a nice, nostalgic chorus based on hard piano notes, as well as a melodious solo by Grudziński. "We Got Used to Us" is a distant cousin of "Conceiving You", though rawer and a bit darker.
Feels Like Falling – drastic change of mood, though again with big commercial potential. Huge, dynamic riff leads this feisty composition from the Depeche Mode-like beginning towards a noisy conclusion full of Grudzień's growling guitar. The relatively mellow chorus that exposes a fine melody contrasts well with the aggressive, loud riff. It's an interesting combination of 80s sound with power and aggression of hard rock. Depeche Mode meets Deep Purple? No, it surely is Riverside, skillfully pursuing new progressive areas, similarly to bands like Muse or Archive.
Deprived (Irretrievably Lost Imagination) – calm, devoid of dramatic contrasts and a bit unreal, lengthy art-rock tune. Clocking at eight minutes, it's led by a gentle guitar part, soothes with pleasant melodies and hypnotizing vocals by Duda. The instrumental part that starts in the fourth minute brings some more dynamics, but the band is far from going all in. We hear some fine guitar by Grudziński and more of Łapaj's keys, but the most distinctive part is the solo played by Marcin Odyniec on soprano sax.
Escalator Shrine – the album's longest track and one that resembles old Riverside compositions the most. But the band does not recycle their old songs. One can hear some characteristic Riverside ideas (swirling, cosmic Hammond organs, Duda's pulsating bass, crunchy riffs by Grudziński and massive, "broken" patterns played by Mittloff) and the song is surely a worthy successor to "Left Out", but the whole thing has more of a 70s hard rock flavor. It starts with some Latino guitar but it quickly gives way to a bluesy hard rock riff, evoking refined, classic rock from 40 years ago. In its fifth minute, the track led by a bass motif suddenly starts to go faster. Łapaj joins in more prominently with his Hammond organ, only to give way to mighty guitar sounds a moment later. The last part of this mini-suite, beginning with a cool-down in the seventh minute, leads directly to a huge finale. In the eleventh minute we hear a heavy, slow guitar riff and a growing wall of gloomy keyboard sounds played by Łapaj. Duda's wistful vocals brings us back to the theme of suffering and slavery. It's a poignant closing of a track that tells of modern forms of slavery.
Coda – an acoustic miniature created on the basis of "Feel Like Falling". The same melody but performed only with vocals and an acoustic guitar. Charming and intimate ending.
Bonus disc
Night Session I&II – the bonus disc includes two instrumental tracks. Just like with "Rapid Eye Movement", the band decided to try some songs that differ in sound and structure from the rest of the material. These are based on drum machines and keyboard sounds and will surely attract fans of ambient and trance/club music. "Night Session I" is more dynamic, with hypnotic, pleasantly rocking rhythm. "Night Session II" opens with saxophone played once more by Marcin Odyniec, giving this track a bit of a smooth jazz flavor.
"Shrine of New Generation Slaves" hit the stores on 18 January 2013. It debuted at number 3 on Polish best-sellers list three days later. This time the top spot was not for them (they later reached the second spot behind Lady Pank's "Symfonicznie"), but the album went gold a month after its release.
"SoNGS" – Riverside's fifth album – is almost an hour long (not counting the bonus tracks), with no fillers or weak spots. The band clearly steered away from metal sound, getting closer to more spacey, a bit more spontaneous and "dirty" hard rock. Fortunately, this was done with much respect to the sound of old Riverside recordings. The group's new music had everything to please old fans and attract some new ones. All those, who had seen Riverside as another Porcupine Tree or Dream Theater clone, had to verify their opinions. Poland's most important progressive band confirmed that it's still looking for new musical areas and that it's able to modify its sound in an interesting way. No more heavy metal riffs that drove most tracks on "ADHD". Their place was taken by some dirty riffs in the vein of Jimmy Page, Ritchie Blackmore or Jack White. Grudzień showed a great versatility as his parts did not lose metal aggressiveness, but at the same time he introduced some dusty, almost bluesy spontaneity into his playing. He also did not forget about melody, which is such an important element in his art-rock playing style. One thing has to be said – if there's a guitar player in the twenty first century that can combine sensitivity and melodic ability of Gilmour and Rothery with aggression and speed of John Petrucci and some good old dirty and noisy heavy blues played by Page and Blackmore, then it must be Piotr Grudziński.
Rest of the band wasn't left behind. Just like Grudziński, Duda and Kozieradzki reinvented their playing and approach to rhythm. Most tracks are performed a bit slower, as if in a more dignified manner, resulting in more room for interesting melodies and unusual harmonies. The rhythms remained interesting, a bit broken in progressive fashion, intriguingly swinging. The wizard of keys, Michał Łapaj, a huge factor in the way each composition sounded, creates the atmosphere and sounds sparing no resources. Noisy Hammond organs, soothing melodies, monumental walls of sound and short, spectacular solos – all these are hallmarks of the guy that right now is probably already the most prominent Polish rock keyboardist.
Ready for intensive promotion of the new album, Riverside went on tour in March. "New Generation Tour" started on March 9 in Dresden. First couple of shows took place in Germany, then the band moved to Great Britain. Polish audience had to wait till April to hear the new album live. In late April, Riverside flew to the United States, where they spent early May, playing also in Mexico. The second part of May saw more shows in eastern, central and southern Europe, including Czech Republic, Slovakia, Hungary, Greece and Romania. "We've got lots of fans in countries like Bulgaria or Romania – said Mariusz. During the ADHD tour, we played in Sofia and that was probably our noisiest show in terms of all the screams coming from the audience. More than 600 people and so much noise we could hardly believe it."
One more time during their visit to the Balkans, the band was surprised by something that was hard to imagine. After one of Romanian shows, great news from Poland reached the musicians. On May 25, the second single off "SoNGS" – a ballad titled "The Depth of Self-Delusion" – reached the top spot on the legendary Polish Radio 3 charts. The last show of the tour took place in Wrocław's Alibi club where the band played for 900 fans. In that sultry, stormy night, the Wrocław crowd that was waiting for the band since April, welcomed Riverside with enthusiasm and was rewarded with an almost 2-hour set comprised mainly of new songs and tracks from "ADHD".
The band did not have much time to rest. In summer, they played at some festivals (including Ino-Rock in Poland) and in September they went on another tour.
The tour supporting "Shrine of New Generation Slaves" was the band's longest to date. It was divided into three legs, lasted one and a half years and consisted of 100 shows played in 16 countries. It concluded in spring 2014 with two special shows played in Warsaw. In April, Riverside visited a few Polish cities, but returned to Warsaw for two back-to-back concerts. Day one saw the band performing at Progresja club in front of almost two thousand people. The next day, Riverside performed for 200 seated fans at the intimate Polish Radio 3 Concert Studio. "Music created with passion, true music will always find its recipients – said Polish Radio's Piotr Baron before the band entered the stage. – I often read on the Internet that this group is more popular abroad than in Poland. In my opinion, these words are no longer true." And indeed, the popularity of Riverside in Poland kept on growing and the biggest wave of interest was yet to come.
Anno Domini High Definition, Memories In My Head
Anno Domini High Definition, Memories In My Head
While the band worked hard on the new album, fans could buy some more new limited releases. The band decided to pay their respect to the history of music and released their albums ("Out Of Myself" and "Reality Dream") on vinyls. These albums were released by Primal Vinyl Records in January.
In spring 2009, the band played only two gigs. First, on April 26, Riverside performed in Crakow's club "Studio" along with Vader, Jesus Chrysler Suicide and Ketha at a charity concert. We played a charity gig to collect money for medical treatments for Covan from Decapitated – said Mittloff in "Teraz Rock" – I hope it helps him. Each of us (touch wood!) could be in the same situation – he added – We travel a lot (Covan was badly injured in a car crash when his band was coming back from a concert - MN) and who knows what may happen. One of us may need help one day. On that day, the band presented two new compositions from the forthcoming album – "Hyperactive" and "Hybrid Times".
On May 21 Riverside played in Warsaw at Juwenalia (traditional celebration for students). The third planned show had to be canceled. The band was supposed to play at the fourth edition of Konin Art Rock festival, but Mittloff's arm injury made it impossible for them to play. Fans were disappointed but the good news was that the new album was coming very soon.
Fans got used to the album's title "Anno Domini High Definition" as it was known as early as mid-2008 that it would be the name of Riverside's fourth full studio release. I was looking for a title that would be connected with modern times, a title that would be up to date and would contain some elements popular these days – said Mariusz in an interview for Interia – So the result is a mixture of High Definition technology and a disorder which, as it turns out, a big part of our bustling society suffers from. Apart from that, I wanted four words as it is our fourth album.
The album was supposed to be a loose concept made up of five compositions, each telling a story about people that try to catch up with the galloping and overactive modern world. Our album is not about TV sets, iPods or modern media but about the rush our civilisation suffers from – Mariusz explained in "Teraz Rock" – It's about the fact that we don't have time for anything and that those who are left behind are not the people who don't work on improving themselves – they just don't run twice as fast. Because nowadays, you have to run twice as fast if you won't to keep up with the whole world.
"Anno Domini High Definition", the fourth Riverside album, running 44 minutes and 44 seconds, was released in Poland on June 15 in two versions – as a single and double CD. The second disc on the expanded edition comprised of a DVD with parts of the show from Amsterdam (10.12.2008).
Hyperactive – a true volcano of energy. It starts with a short piano intro that, although very lyrical and subtle at first, somewhere between the notes foreshadows a real sonic outburst. It all gets clear when in the second minute of the track we hear a nervous pulse, hard guitar riff and a whirling keyboard lick. The whole thing pulses energetically until the end.
Driven To Destruction – Although the whole album is very dynamic, there are some short fragments that are delicate and lyrical and show the melodic side of the band. It is in "Driven To Destruction" that the band catches a breath for a short time creating a balance between the harder sound of the first track and the more quiet and intimate version of artrock. It soothes with subdued sound only to explode a moment later.
Egoist Hedonist – a three-part complex composition. The first part seems to be very light thanks to keyboard-painted landscapes and an ethereal riff by Grudzień. But then, surprisingly, the band hits it hard with a heavy riff and whirling keyboards. The second part includes the use of a brass section. The track gets quieter for a moment in the last part and it ends with a longer instrumental section filled with oriental melodies.
Left Out – The calmest track on the album. The first part is a mysterious and intimate ballad, but in the fifth minute the band hits it harder and moves the track into progressive hard rock area. The track is rich in the usage of different instruments. Powerful and monumental sound of Hammond organs is especially enjoyable. We also have a well-built drama in the last section.
Hybrid Times – The longest composition on the album. A Grand Finale. The first minute is a duet of Duda and Łapaj, full of anxiety and oriental melodies dialogue between piano and voice. This dialogue is suddenly interrupted when the rest of the band enters with a lot of aggression. Riverside gives us the richest, the most versatile and over excitable journey full of surprising sounds. Each instrument has its own "five minutes" here to shine in an interesting passage or lick but it's all made to fit within the same story. The band skilfully mixed aggressive electric sound with delicately introduced spacious keyboards. It's also another good shot at using voice as additional instrument. This number is representative for both, the album and the band's entire output so far.
All those who were worried that we might get "the fourth part of the trilogy" could breathe a sigh of relief after hearing the new album. The band achieved a great success. They recorded music different enough from the previous albums that no one could accuse them of plagiarising themselves, yet similar enough not to get accused of losing their own style. "Anno Domini High Definition" brought music that was dynamic, aggressive, energetic or even – referring to the title – hyperactive. The musicians did the best they could with this newly-gained freedom they were given after finishing "Reality Dream" trilogy, creating compositions that were impulsive, bold and unconventional. This time there were no shorter "verse-chorus" types of songs or acoustic ballads. Simpler forms were entirely replaced with complex progressive compositions.
First reviews were very good. As usual, the band got many warm reviews and a high note from "Teraz Rock". This time the band's release got 4,5 points on a 5-point scale and the reviewer wrote highly of the album: It's yet another Riverside album that you have to listen to a number of times because you cannot hear everything at once. But when you finally discover all that's there… I'm proud that we have such an "export band". A bit less enthusiastic but still very positive was Artrock.pl's reviewer, Mariusz Danielak. He explained the note (4) he gave to the band: It's an important album for this band. It starts the band's new life (…) it's heavier, much more demanding (…) Those, who appreciate this hard, powerful music known from the heaviest parts of "Reality Dream III" will find a lot of this in every composition. It's an album that can in no way disappoint someone who loves high-class hard rock playing, let alone any fan of this Warsaw group. (…) Four is the number associated with it so I'll also give it a four on a school scale. Because it is a good album…
There were many positive reviews also from other countries. High notes were given by rock, artrock and metal reviewers from Germany, the Netherlands, Norway and even Russia, among others. It seemed that most of the listeners welcomed this new album with a great relief and satisfaction. Fans rushed in great numbers to their local music shops even before the release date and thanks to this, only three days after reaching the shelves, "Anno Domini High Definition" debuted at number six on the list of best-selling albums in Poland. This was, however, only a foretaste of a real success because only a week later, the album was at the very top of this list, defeating the new releases of Polish pop stars – Andrzej Piaseczny and the band Feel.
The new studio album was, as usual, promoted by a two-leg tour. It was probably the biggest tour in the history of the band so far. In late September, Riverside kicked off with a twenty-date tour across Poland, which was then followed by twenty five gigs abroad.
The shows were divided into three part – "green", "red" and "encore". A forty-minute-long set of songs from the previous records, usually with different orchestrations and mixed themes, was performed at the beginning of each show. As early as "02 Panic Room", which opened the set, was preceded by an intriguing intro. And that was just the tip of an iceberg of all surprises prepared for the audience. The next novelty was hidden in the middle part of "Second Life Syndrome" during which fans could hear a substantial part of "Schizophrenic Prayer" that was not played live before. "The Same River" was also performed in a different manner. This surprising warm-up was closed by a mixture of two acoustic ballads that were not played for a long time – "In Two Minds" and "The Time I Was Daydreaming" (the second one only in a form of a very short insertion). The moment all the sounds of the ballads faded out, the musicians were leaving the stage and the green light was changed into an intensive red glow. The climate on the stage was changing. The audience could hear the very well-know piano sounds of "Hyperactive" intro during which the band was coming back to the stage and beginning with the main part of the concert, that is the presentation of their newest album. This part was performed in accordance with the repertory of the record. During the "encore" part the fans could hear "Rapid Eye Movement", "Reality Dream II "& III" joined into one instrumental piece, and "Stuck Between" (the song from a mini album "Voiced In My Head" which was never before played live).
"ADHD" tour turned out to be a big success both from the artistic and "commercial" point of view. For the first time Riverside had their own lighting which they enjoyed using when separating moods in particular parts of the concerts. A stage was also embellished with eye-catching stands presenting covers from the last album. It was hard not to notice that the band took another step forward in their career.
The end of 2009 was the time of harvesting after long and tough work. In November "Anno Domini High Definition" covered itself with gold (15 thousand sold records) while summaries published in December discussing tour statistics made everyone realize that it was the richest tournee in the history of Riverside. 20 Polish concerts were watched by 9 thousand people, 6 Dutch-Belgian concerts – by 3 thousand (tickets for some of them were sold out a few weeks before the shows). All in all, there were 20 thousand fans joined the group during 45 concerts. The band was proclaimed stars in clubs.
However, not all the things were developing according to the musicians' first suppositions. The premiere of a DVD, which was recorded in May 2008, had to be postponed for a few months. When it was finally released, it appeared that video registration was not of highest quality, while the sound was only in stereo. In their interview the musicians explained that in order to achieve at least a satisfying version of the DVD they would have to work a lot because of the mistakes that had already been made while recording the concert. We were hoping that those who would work with this DVD would do it on the highest level and show their professionalism when approaching the subject – Mittloff was saying when interviewed by Piotr Michalski. However it appeared that levels of professionalism differ. Only after an intervention of a third party did we get the final version of the video. This all lasted a year and a half. After two hours of watching the montage we knew it could not be published. The video had no leitmotiv, a cameraman was visible in every second shot, no dynamics and lack of two pieces in the final version. None of us could imagine publishing such a record. What is more, it appeared that a man who was supposed to mix sound to 5.1 format simply took offence at everything. A total Armageddon. But we said we would publish this DVD, so we could not break the promise. We decided to save what we could. We asked a guy (Wilqu) who was responsible for a montage and postproduction of a videoclip for "02 Panic Room", to suggest something. He saved the situation. The long expected DVD "Reality Dream" was on sale right before Christmas and although its quality was quite disappointing, the record was receiving favourable reviews and was selling well.
After a year of hard and scrupulous work, the band started 2010 from a long break. Each member of Riverside could spend the time between January and March the way he wanted. Grudzień and Michał were "recharging batteries", Mittloff was developing his publishing company Prog Team and preparing records of Division By Zero and Disperse for publishing. Only Mariusz did not want to leave his guitar and studio and so he used his "holidays" to record his second album of a project "Lunatic Soul".
Riverside came back to life in the middle of March. The beginning of spring was the time when the band started rehearsals for the upcoming concerts. A mini tour entitled "An Evening With Riverside and Friends", consisting of only four concerts, was planned for April. Shows with Jolly and Pure Reason Revolution were eagerly watched by Dutch and German audience. It was a very successful week – Mariusz was saying about the tour. – People were having real fun, we were getting along with the bands. We have decided that this year we would not play a lot of concerts in the places that we performed very often. That is why we would not perform in Poland except of one or two festivals during summer. We did the same with other countries. We were thinking – one time somewhere in the Netherlands, another in Germany – that would be enough. To make things even more interesting, our foreign manager suggested us to play with Pure Reason Revolution and Jolly. The idea of joint concerts met with a bit bigger interest than we had expected and so it developed into a mini tour. The concert in Tilburg was watched by 1,100 people. Nice. Attendance during other concerts was relevant to the size of clubs. We had no reasons to complain. In May Riverside went to places in which they had never played beforeor in which their concerts were scarce. They performed in Greece, Turkey, Bulgaria, Austria, Slovakia and Hungary.
The only concert in Poland took place during summer festival "Metal Hammer". Riverside played in Spodek together with Opeth and KoRn, not making way for more experienced colleagues. The sound for the concert was provided perfectly, execution was faultless. Audience received the band very warmly. Thanks to them it was the most important part of the festival - Robert Filipowski wrote in "Teraz Rock".
The band was not working at full speed. Its members were rather trying to "regain freshness" before recordings in 2011 and the already announced anniversary. Only Mariusz was working all the time as he was using every spare minute to materialize his second, this time "white" CD entitled "Lunatic Soul". It is a continuation of the black album – Duda said when interviewed. - It is a supplement to one story, a negative in a way. But I don't mean the colours of album covers or the fact that in the third song one hears laughter instead of crying. I will not hide it from you, it was a kind of challenge for me to continue something but in a different musical manner. Copying "the One" would not be hard and by saying "a copy" I'm not talking about the mood. Here it was a challenge to show all this musical whiteness, lightness and a kind of anxiety which accompanies a character during his next wander. According to most of critics Mariusz succeeded in his task. The album was on the market in October and from the very beginning it gained the name of one of the hottest premieres in the artrock world. Good and very good reviews were written all around. The album was even singled out by a highly appreciated German magazine "Eclipsed" and called "the album of a month".
The end of 2010 was mainly devoted to things outside Riverside. Mariusz was promoting his "Lunatic Soul" and giving a record-breaking number of interviews to Polish and foreign medias. Mittloff was supervising the "Progressive Tour 3D" which was presenting three young progressive groups (Disperse, Division By Zero and Dianoya). However, the closer the end of the year, the bigger number of questions concerning Riverside's next steps. In the meantime the musicians were dosing news. Finally everything was said in the end of February 2011. Riverside would give 18 concerts within the confines of the "10th Anniversary Tour". 6 night shows were planned in clubs in the biggest Polish cities, while two well-known foreing bands – Paatos and Pineapple Thief – would play the role of a special attraction. May was then very promising – hot, loud and progressive, but till then the band was not going to idle away. The tour was to be accompanied by the premiere of a new mini-album, tentatively titled "Voices in My Head II". Unlike the first EP, this time the band was not going to fill the album with random songs and live versions of older tracks. Riverside spent a couple of weeks in their rehearsal room and recording studio. The result was more than half an hour of new, great music. "We're going back to the basis and our early inspirations – said Mittloff. You'll hear the Floyd, some Genesis and Marillion in it. It's really a solid EP."
Spring of 2011 was spent celebrating the band's 10th anniversary. In May, Riverside went on the anniversary tour. They warmed up with a few shows abroad (with Tides from Nebula as a support act) before coming back to Poland for 5 big shows in the second part of May. The sixth planned show in Łódź's Klub Wytwórnia had to be cancelled due to poor ticket sales. But that was the only serious hiccup during "The 10th Anniversary Tour" (if we forget about Grudzień's guitar that was stolen after their show at Wrocław's Eter club). Concerts in other cities proved that Riverside is a band that attracts large crowds in their country. In Wrocław, Cracow, Poznań, Gdańsk and Warsaw the group performed in front of the biggest crowds to date. About six thousand Polish fans celebrated with Riverside during those anniversary gigs. They got to hear songs from all albums. Outside Poland the band has also performed a cover of Rush – "Leave That Thing Alone". No covers in Poland, though fans could listen to two new compositions from the new anniversary EP, eventually titled "Memories in My Head". The "best of" setlist was augmented by "Living in the Past" and "Forgotten Land". From the first performances, both tracks captivated the audience with their engaging progressive atmosphere and rhythmical ideas. "Forgotten Land" was released as a single, reaching top 10 in Polish Radio 3 charts. "Memories in My Head" was available at the band's concerts in May and hit the stores before summer.
Goodbye Sweet Innocence – very atmospheric, unhurried opening. Within the first seconds of the track, the band clearly indicates it's a return to art-rock sound. Hyperactivity and metal riffs known from "ADHD" are nowhere to be found. Riverside returned to mid-tempo melodies in the style of old masters such as Pink Floyd. Up until the seventh minute, the song is a relatively quiet story about passing, with gentle guitar part played by Grudziński and equally gentle vocals by Duda. Then, in the eighth minute, Łapaj comes forward with somewhat disturbing keyboard sounds and so begins a psychedelic, instrumental part of the song. Duda's bass guitar clearly stresses the rhythm, Grudzień's guitar loses its art-rock characteristics and gets more aggressive, and Łapaj plays some swirled cosmic solos. After ten minutes, the song slowly fades into the second track on the album.
Living in the Past – once again we kick off with an atmospheric beginning, this time based on the closing part of the previous song. It's the longest, the most important and probably the best fragment of the whole EP. Led by Duda's hypnotic bass and Grudziński's guitar melodies, it surprises with energy and some heavy riffs in the "choruses". It's full of masterly contrasts (delicate vocals set against monumental, aggressive guitar riffs) and beautiful oriental melodies. The song ends with an instrumental section. Based on a dynamic, progressive rhythmic pattern, it impresses with intricately woven melodic motifs.
Forgotten Land – this dark, nostalgic composition begins with a pulsating bass guitar motive played by Duda. Spacey keyboard melodies courtesy of Łapaj give this song a touch of gothic flavor. It's worth noting that Grudziński plays some fine guitar, switching between main melody and a slightly disturbing, pulsating guitar in the background. The song ends with psychedelic sounds already known from the beginning of "Goodbye Sweet Innocence" – the EP's opening track. Thus, the whole mini-album loops into one big piece of music. This song was included on the soundtrack album to "The Witcher 2" computer game.
"Memories in My Head" is a plus half-hour musical piece divided into three individual but interweaving tracks. These are three long, progressive compositions with a touch of oriental and gothic melodies. It's a deliberate return to the atmosphere known from "Out of Myself". The band revisits some ideas that amazed fans at the very beginning of Riverside's history, resulting in an ubiquitous theme of passing. Lyrically, we have three different, nostalgic views on the passing of time. "Goodbye Sweet Innocence" is – as the title would suggest – about saying goodbye to childlike innocence and preparing for a new chapter in life. "Living in the Past" is a confession made by a man apparently dissatisfied with his present life, still living in his past. "Forgotten Land" is even more eloquent and vivid. It's a story of a fall of a booming civilization. "Memories in My Hand" is a dark but charming piece of music. Although only an EP, we can hear Riverside in great shape and amazing repertoire, making this mini-album much closer to the great "Out of Myself" than to the previous EP, "Voices in My Head".
The band spent the second half of the year playing live again. In summer, they performed at a few festivals, including the band's first ever show at the Polish Woodstock Festival, played in front of a 300,000 strong crowd. The concert was supposed to be released on DVD, but the idea eventually collapsed over financial terms. A couple of club shows followed in autumn, including another anniversary show in an almost sold-out Katowice's MegaClub.
When the jubilee year was coming to an end, fans had a chance to buy one more album. Mariusz Duda compiled a record of unused Lunatic Soul ideas. The album titled "Impressions" served as a post scriptum to the black and white diptych. "Impressions" comprised mostly instrumental pieces. As in the case of the "black" and the "white" album, the music was a combination of ambient, acoustic rock, folk and film music. The album also included two remixes of compositions from previous albums, added as bonus tracks.
After an eventful year of 2011, Riverside disappeared for the whole 2012. Up until March, members of the band were recharging their batteries and in spring they started working on their fifth album. They were well aware of the fact that this record would be crucial in determining the new artistic direction for the band. They didn't want to recycle their own ideas. The new record could not resemble "ADHD" or, especially, "MIMH", as the latter one was a goodbye to the early, progressive period. Metal riffs and hyperactive dynamics, so characteristic for the last album, were to be dropped. A change was about to happen also to the structure of their compositions. Long, progressive, multipart songs were temporarily abandoned. Their rehearsal room had the word "songs" all over it. And although those tunes eventually gained some ambitious, art-rock flavor, they sounded much more like classic rock songs.
"I didn't want to record another Anno Domini High Definition – Mariusz assured. I've had enough of these heavy, thrash metal riffs. I was looking for something we could develop in our music. We decided on hard rock. Its elements replaced this quasi-metal present on our previous recordings. In addition to that, I wanted to bring back some of those emotions known from our early albums and maybe to some extent connecting us to what I've been doing on Lunatic Soul records. I'm tired of songs that are made of square blocks. I'm talking about this thing that affects many bands inspired by Dream Theater. Patterns like AB ABC BCD EF AB ABC, and so on. Our last record could falsely suggest we're a metal band. It's not so. Most of all, we're a rock band. We want to go back to our roots and to this openness that was once very important in music, before it all got so artificial and computerized."
After those statements, fans could speculate that Riverside would turn away from post-progressive and prog metal music in favor of a more raw, dynamic rock and hard rock of the 70. Especially that Duda, talking about his recent musical inspirations, was mentioning musical openness and spontaneity. "I always liked that well-arranged music by Genesis or Metallica and Anthrax, to name some heavier bands – he said – but the older I get, the more often I listen to music that's not necessarily so obvious in terms of patterns and schemes. Music where there's a lot of room for some dissonance, dirt and noise. That's the heart of it. Getting to Led Zeppelin or falling in love with Helter Skelter by The Beatles took me some time."
In another interview he named some later, more recent inspirations: "After watching It Might Get Loud, I was trying to understand the whole phenomenon of Jack White. I bought some CDs and it hit the nail on the head. Elephant by The White Stripes is a great album. After that, I decided to dust off my Led Zeppelin records."
Rapid Eye Movement, Reality Dream
Rapid Eye Movement, Reality Dream
The musicians started working on their third LP in late 2006. In March, during a gig in Zabrze, they were able to play early versions of some of the new tracks. Various news about the record would reach the fans from time to time. In January it was revealed that the last part of "Reality Dream" trilogy would be entitled "Rapid Eye Movement". The first recording session took place in March, and as Mittloff explains, it was the dreamy part of the record that was recorded during that session. The heavier part was recorded in April. The album was recorded in Serakos Studio in Warsaw and in Toya Studio in Łódź. "R.E.M" was due to be released in September.
Two releases were prepared to make the wait more bearable for the fans. The first of them was given to fanclub members in March and contained a DVD of the entire show played in Den Bosch on 20.04.2006. The second one was a single from the forthcoming third album. It contained two versions of "02 Panic Room", "Lucid Dream IV" and "Back To The River", previously played during live shows. The single reached the stores on June 15. At that time, Riverside was playing a small tour as a special guests of prog metal icons Dream Theater on their "Chaos In Motion" tour.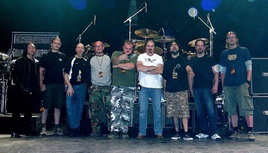 Seven times did Riverside open for Dream Theater. Sharing the stage with such a great band was both a reward for Riverside and a big challenge, as well as a chance for further development of the quartet. It's a huge chance for us to reach more people – said Mariusz – thanks to this tour, our dreams became a bit more real. Ten years ago, Dream Theater was a big band for us. Their albums "Images & Words" and "Awake" were like some sort of bibles of prog for us. Being with them on a tour now is a great thing and we will do our best to be great partners for them.. I believe we can do it. And although their first joint gig in Katowice wasn't really perfect, the next shows in Berlin, Esch and Bonn earned them many warm reviews.
In July the band played at some festivals in Germany and Turkey and in August, thanks to a radio journalist Piotr Kosiński, a large portion of the band's new music saw the light of day. In his programme called "Noc muzycznych Pejzaży", Kosiński presented three new compositions from the forthcoming album – "Parasomnia", "Embryonic" and "Through The Other Side". The band spent the whole September preparing for a big Polish promotional tour.
"Rapid Eye Movement" was released in Poland on September 24 by Mystic Production. InsideOut released the record in Europe and The States on Sptember 28 and October 9 respectively as a double CD.
Journalists and fans were curious why a double cd version was released and why was not it available in Poland. Mariusz explained the story behind this somehow strange publishing policy in one of the interviews: The plan was like this – in Poland we're releasing "02 Panic Room" as a single with some additional tracks, and outside Poland those tracks are included on a double CD version of the record. InsideOut is famous for releasing albums in various different versions, including limited editions with additional music. They wanted something more than just tracks from the single that, let's be honest, everyone can download from the internet. Initially we wanted to include some videos there, but we abandoned this idea. We had two unfinished tracks from the recording sessions. When we finished and recorded them, they turned out to be quite decent tunes. Those two last-minute tracks were "Behind The Eyelids" and "Rapid Eye Movement".
Only the first CD was a continuation of the trilogy and the compositions included on it was divided into two parts: "Fearland" and "Fearless".
FEARLAND
Beyond The Eyelids – a very strong opener. After an atmospheric beginning, it turns into dark and disturbing instrumental piece. It is only the ending that brings some balm thanks to a nice smooth guitar solo.
Rainbow Box – a pattern similar to the debut album. After a complex composition that opened the album, the next track is shorter and simpler. It's the hard rock and psychedelic side of the band.
02 Panic Room – a single. Painstakingly solid rock track. Good and dynamic drum and bass lead-in. Nice solo by Grudziński and a catchy chorus. It ends with a hidden coda with a beautiful guitar and piano melody and moving vocals by Mariusz.
Schizophrenic Prayer – a strange and a bit mysterious composition, hypnotising with steady rhythm and vocals. The band, characteristically for itself, experiments with oriental sounds. This track uses some percussion played by Artur Szolc.
Parasomnia – a masterful piece playing with contrasts. During these 8 minutes the band presents most of its assets. Some great melodies, nice keyboard background, the guitar working constantly (sometimes playing a beautiful solo, other times crunching with heavy riffs), and a sharp rhythm section controlling the whole tune. The thing that amazes the most is how easy the band changes the mood and juggles with emotions. Riverside knows how to energise and thrill but also soothe and calm down almost at the same time. A scream and a whisper hand in hand.
FEARLESS
Through The Other Side – calming. A nice four-minute ballad.
Embroynic – second ballad. Classic, mellow Riverside. It sounds as if it was taken from "Voices in my Head" EP. Associations with "In Two Minds" would not be out of place.
Cybernetic Pillow – back to a simple form with the whole band involved. Less than 5 minutes. Good solo by Grudziński.
Ultimate Trip – the longest thing on the album, many melodic and rhythmic ideas as well as some typical mood changes. Great, demonic solo by Łapaj who presents great capability of his keyboards throughout the whole track. Grudziński also builds up various moods during these 13 minutes. The song ends with some radio noise known from the beginning of "The Same River".
(the second disc from the foreign edition contained the following tracks)
Behind The Eyelids – calmer, pleasantly swaying version of "Beyond The Eyelids". It is the second track to contain percussion by Artur Szolc.
Lucid Dream IV – an instrumental track typical for the band with nice solos by Grudziński and Łapaj, all with a dark mood and a fast pace. More interesting than "Mental State..." and fitting in with the style of the "Reality Dream" trilogy. In Poland it was released on "02 Panic Room" single.
02 Panic Room (remix) – Panic Room seen through the eyes of Robert and Magda Srzednicki. Keys are clearly noticeable and we have a hypnotic sample of Duda's vocals. Grudziński's guitar is much less prominent in this version as oppose to the original mix (although we have a short acoustic guitar bit).
Back to The River – an instrumental track known from the gigs as "Shine On" or "Instrumental – Shine On". It uses a part of "The Same River" as well as some intentional references to Pink Floyd ("Don't Leave Me Now", "Shine On Your Crazy Diamond"). Released similarly to "Lucid Dream".
Rapid Eye Movement – a mysterious and dark play on sound and mood. The most unusual track in the group's discography. It sounds like a spontaneous jam. A successful experiment by Mariusz who uses his voice as an additional instrument. An almost 13-minute track impresses with a hypnotic mood and skilfully dosed drama. Grudzień's breathtaking riff towards the end graces this disturbing composition with a bit of optimism.
"Rapid Eye Movement" is a continuation of the band's musical and lyrical journey known from two previous releases but it does not mean there were no changes introduced. What improved the most was the sound of the record. The musicians agreed that the production of the album was better than ever. The most prominent musical difference is in Grudzień's guitar playing. He uses his instrument more for heavy riffing than for solos and nice melodies. Another novelty was the introduction of some psychedelic and trance elements. Also the acoustic guitar returned to favour and appeared in two compositions.
The band presented music slightly different from its previous albums but still in the same style. Mariusz explained the band's consistency and careful experimenting with the example of matches: Imagine you have a box of matches. Each match is a different musical element. Your task is to stick with these 50 or 48 schemes, blend them and experiment with them in any way you like but without stepping out of certain frames. Then you have a chance to create something coherent. Unlimited experimenting may cause that you will never create your own style.
Although the album is a part of a trilogy, it has its own main themes – dualism and sleep. According to the author of the lyrics, the key track not only on this record but also in the whole trilogy is "Parasomnia": It deals with this record's crucial issue – the dualism of each of us. In this track, the second "self" takes over the first one. So called 'Mr. Hyde' shows up – a dark side of our hero who supposedly did something bad. Who knows, maybe it was this dreadful event, which I didn't want to fully explain, that led him to close inside his own shell.
The character comes into a surprising conclusion. In "02 Panic Room" he recalls the time of his loneliness known from the first album. In "Embryonic" he wishes he could go back to his solitude. Finally, at the end of "Ultimate Trip" which is the last song of the album, we hear the same radio noise that appeared at the beginning of "The Same River". Thus, the story came full circle and the characted returned to the starting point.
In August, almost a month before its release date, the album leaked into the internet. When it finally reached the stores, the reviews were for the first time mixed. Most of them were positive or enthusiastic but this time Riverside's new music brought them some words of criticism. One of two disappointed reviewers from artrock.pl used these words to express his discontent: The first reason is the climate. You can't step into the same river twice, especially if it became too deep or the water is not fresh anymore. There's something wrong about music, too. Even though it's played flawlessly and the sound is great, the whole thing doesn't make a good impression. This flawless playing seems to lack any inspiration, enthusiasm or joy. There isn't a single composition that would move me in any way. They come through one ear and out the other.
But at the same time a completely different review could be found at the same portal. In his review of "REM", Mariusz Danielak wrote: It's classic Riverside style and it proves that the band indeed has its own style. Perhaps "REM" is the least accessible of all their albums but I can guarantee that it's only the surface. If you spend some time listening to this album, you'll discover its real beauty and the outstanding (maybe even the band's best) melodies. A reviewer from "Teraz Rock" was of similar opinion giving the album 4 out of 5 stars and writing: "REM" is singly a continuation of two previous albums. The production is clearer than before. A greater variety in the use of the keyboard is positive, though not surprising. The band is simply still in great shape. It is their new and great album. And that's it.
Piotr Miecznikowski from "Mystic Art." wrote: The overall style is still the same but you can hear in the new compositions that the band grew bigger wings. It's dynamic and gentle at the same time and it's not very often that a band is able to find this balance. Riverside has already scored more than hundreds of other bands but after listening to "REM" it becomes clear that it is only the beginning and that these people can achieve much more!
Outside Poland, the reviews were usually more favourable. The Dutch and the Germans were very optimistic in their opinions and often placed "REM" among the best albums of 2007.
Facing some criticism for the first time, the musicians did not bury their heads in the sand. Piotr Grudziński defended the new album deftly in an interview for Radioaktywny, addressing mainly those people who claimed that the album lacked innovation: I believe this record is a good ending of the trilogy. We wanted all the those albums to have much in common – he reminded – Because it is a trilogy, we couldn't and we didn't want to record something that would be totally different. Mittloff considered this division into those pro and against the new album as something normal: Polarization is something natural, I believe. Usually the listeners divide into those pro and against – said the drummer in an interview for "Mystic Art" – We think that on this album we give our fans everything that they love us for and something extra that they might love as well. All you have to do is to dedicate some time to this album.
Mariusz Duda was also calm about the whole situation: we're already at this stage when you can't please everyone. From now on, there will always be some division among fans.
The reaction of the general public proved the band was right. A week after its release, "Rapid Eye Movement" debuted at 23. spot on OliS – the list of Poland's top-selling albums and reached number 2 a week later! It became clear that the band achieved a higher level, that its music would now reach a broader audience. It was confirmed during the Polish Tour in September and October. The 16-date tour gathered the biggest audiences till that time and changed the opinion of many dissatisfied with the new album. "Beyond The Eyelids" instantly became the show opener while "Panic Room" and "Ultimate Trip" captivated the audience and sounded even more powerful than on the album.
Unfortunately, some complications arose along the way. In early October, Duda's vocal chords seized up. The band had to postpone five shows and take a week off. Luckily, after this forced break, everything went back to normal. The group spent November and the first half of December touring abroad. As usual, they played in The Netherlands, Belgium and Germany, as well as in Skandinavia – Finland, Sweden and Norway. The band also played in London in front of five hundred cheering people.
In December, while Riverside was touring Europe, their first professional video clip had its premiere. It was produced by Inbornmedia crew and promoted "02 Panic Room". Maciej Pawelczyk and Radek Wikiera directed the clip that was shot in October by Jakub Jakielaszek.
The band was still promoting "Rapid Eye Movement" when some questions began to rise, asking "what's next?". Riverside freed themselves from the chains of the trilogy and they could open a completely new "box of matches". Mariusz Duda stated that the band would do everything so that the fourth album was not another part of the "Reality Dream Trilogy" but before that, there was still some time to wrap up that first period in the band's history. In 2008 we want to play a "Reality Dream Tour" recording each and every gig. Then we'll pick something from that tour for a live album or a DVD.
As for new music, the band openly stated that they feel happy to have a completely blank sheet of paper to fill. Duda announced that they would drop some of the characteristics of their previous releases: We will surely not have a three-word title or nine tracks on the record this time – and went even further in his predictions – we might do twelve short numbers not connected anyhow to progressive rock or we might as well record two instrumentals that will irritate all our die-hard fans. We'll do anything we want to do. Surely, this record will be different from those previous ones.
Even these early declarations could easily excite the imagination of fans but there was still a-year-and-a-half worth of waiting before any new music would be presented. Meanwhile, 2008 was to be the year of summaries, short tours and… a debut of Mariusz Duda's side-project. The first to do a summary of 2007 were the readers of "Teraz Rock". After an annual voting, it turned out that Piotr Grudziński was the best Polish instrumentalist of 2007. Apart from this victory, the band marked its presence in some other categories (e.g. second place in "best band", fourth in "biggest hope for the future". "Rapid Eye Movement" was placed third among the best albums).
At the time when these results were announced, the band was already working for recognition and their listeners' interest in 2008. In early January they wrote a short post scriptum to the "Rapid Eye Movement Tour". Between January 10 and 20, they played in Olsztyn, Lubin, Lublin and Białystok. In March they also reached Poznań and Zabrze and to have a good kick off into Spring, the band flew to Mexico to play at a respected prog festival Baja Prog.
Only a couple of gigs were played at that time but the fans had no reason to complain about. In February and March, MTV and VH1 played the video clip for "Panic Room" and the single with that composition became golden on March 12. Five days later, another single, "Schozophrenic Prayer" was released. This single was a way of repaying the debt to the Polish audience who, up until that time, had some trouble obtaining the tracks from the second disc of InsideOut's international "REM" release ("Behind The Eyelids", "Rapid Eye Movement"). The single contained the title track in both its original version and a remix, two mentioned compositions from the second disc of "REM" and a new track – "Rainbow Box". As a bonus, the fans got a video for "Panic Room". Over 30 minutes of music, not counting the video.
It's hard not to notice that the "single" tag is a bit misleading and unjust in case of this release. "EP" would suit here better as the album was also well-thought in its character, sound and overall mood. All compositions showed the band's more mysterious and hypnotic side balancing between electronic and trance. I know that some of our fans would like our last album to sound like this – Mariusz commented – the word "hypnotic" is usually associated with this type of spacious sound found in the track "Rapid Eye Movement". On the one hand, I regret that this number along with "Behind The Eyelids" was until now only released abroad because many people here don't know it. On the other hand, I'm glad that Polish fans will finally be able to hear the last year's entire additional recording session.
May was a real treat for all those fans who missed live shows. In mid-May, the band went on a mini-tour across Poland (Gdynia, Bydgoszcz, Piekary, Kraków, Łódź). The most important date was the May 17 gig in Toya Studios in Łódź. It was there that Riverside played their over-two-hour gig that summed up the "Reality Dream Trilogy". It was also recorded for a planned DVD release. About one thousand people gathered in Toya Studios, among them many people from other cities or even countries (there were people from The Netherlands and Germany) and "Voices In My Head" fanclub members who, as usual in case of such special events, did not have to pay for their tickets. The band, as always, rose to the occasion and played a show that was well worth recording and releasing. Apart from the great performance of music known from the band's three big releases, there was also the best lightning in Riverside's history prepared and a couple of screens that showed some special visualisations during the whole gig.
Those who still wanted more after May could see Riverside during summer festivals. The band played in Węgorzewo and Inowrocław, where, for the first time, they played "Rapid Eye Movement", and in Weert (The Netherlands) at Bospop (where Riverside played along such big names as Anathema, Europe, Thin Lizzy, ZZ Top and Opeth). This festival trek lasted until autumn, as in September the band flew over the Ocean to play at ProgPower (USA) and FMPM Festival (Canada).
In the same month, Lunatic Soul – Duda's side project - released its first self-titled album. Duda was recording his first non-Riverside compositions throughout the year with the help from respected musicians – Maciej Meller, Wawrzyniec Dramowicz, Michał Łapaj and Maciej Szelenbaum. The effect was dark and full of various sounds, often played on unusual instruments, such as kalimba. Moving into more atmospheric sound that resembled the work of Peter Gabriel, Dead Can Dance or Clannad, Riverside's front man created a mysterious and absorbing concept-album about a journey into what is beyond our life. "Lunatic Soul" got very good reviews and it was voted "The Most Interesting Album Of The Year" by the listeners of "Noc Muzycznych Pejzaży".
There was no chance, however, for a Lunatic Soul tour as, at least at that point, it was strictly a studio project. But in November there was a new Riverside tour. As usual, the band first gave a couple of shows in Poland (playing, among others, a fantastic show at Radio Wrocław) and then headed for Western Europe. The highlight of this tour was a gig in Amsterdam's famous Paradiso Club. The show was broadcast live in the Internet. Those who attended these gigs could purchase the band's first, although limited, live release "Reality Dream". This double CD album contained almost the entire performance from Toya Studios gig played in May (with the exception of "Loose Heart", "Dance with the Shadow", "I Believe" and "Lucid Dream IV").
The November/December "Reality Dream" tour was the final farewell to the trilogy period. In summer, the band had already started working on a new concept and new compositions for their fourth album – "Anno Domini High Definition". In late January 2009, Duda, Kozieradzki, Grudziński and Łapaj hit the studio (this time it was Studio X in Olsztyn) to record this next Riverside album. At the same time, a special new internet site was launched, where the musicians informed their fans every couple of days about the recording process, uploaded some photos and lyric samples from the new album.
Voices In My Head, Second Life Syndrome
Voices In My Head, Second Life Syndrome
The band, thinking mainly about its fanclub members (the fanclub named "Voices In My Head" was established in autumn 2004) released in March 2005 an EP "Voices In My Head". It was supposed to keep the interest in the band alive and make the long wait for the new album more bearable for the fans. At first it meant to be only a limited CD for fanclub members. Eventually, it was also available in music shops, which was a good move as the almost 40 minute release was full of interesting sounds. Apart from three live versions of the songs known from the debut album, "Voices In My Head" also contained five new compositions.
Us – a miniature. A dark, cold sound of keyboard, acoustic guitar and Duda's voice. Hypnothic atmosphere.
Acronym Love – more complex composition. A mellow and more traditional part followed by a more energetic instrumental fragment. Definitely art-rock areas.
Dna ts. Rednum or F. Raf – a very interesting piece, certainly different from anything the band had done before. It lasts over 7 minutes and contains numerously repeated guitar lick along with Duda's hypnothic vocals. Acoustic guitar sounds nice over dark background. Although we hear a drum machine and the entire number has a bit machine-like sound, this compositon has a lot of charm and unique atmosphere.
The Time I Was Daydreaming – a beautiful ballad built around an acoustic guitar. Somewhat resembling "In Two Minds" and "I Believe". Just like in those two numbers, we have an outstanding melody, delicate sound of the guitar, beautiful, subtle solo and amazing vocals by Mariusz.
Stuck Between – drum machine again but this time a more traditional and simple composition. Great keyboard in the background and nice vocals. It proves that the band is capable of writing simple melodic tunes that could potentially become radio hits.
"Voices In My Head" contains the effects of studio work from January and February 2005. It is, however, not fully representative for the band as it shows the more mellow side of Riverside. Only three of the tracks made it to the live shows ("Us", "The Time I Was Daydreaming" played as a five-piece with an additional bass player and "Acronym Love") and only one track contains any live drums by Mittloff. But, on the other hand, you cannot say that these songs lack subtlety, character and charm. Composing a track like "Dna ts. Rednum Or F. Raf", the band showed a lot of creativity and guts.
Three live recordings were also a special treat for the fans. Those were: "I Believe" played differently to the studio version, along with "Out Of Myself" and "Loose Heart". They were recorded in "Traffic Club", Warsaw in May 2004 and show the band in great shape. "VIMH" is important also because it was a studio debut for the new line-up of the band. Michał did a great job live but it was still unknown whether he would be equally great in the studio. However, Michał proved to be a valuable member of the band, which can be easily heard especially on "Acronym Love" – a track full of piano and keyboards.
The reviewer from "Teraz Rock" was especially fond of "Dna ts. Rednum Or F. Raf" and he was by far not alone in his opinion. He wrote that: "Dna ts. Rednum Or F. Raf" attracts attention with its electronic background, oriental sound and tempo changes. It's the most interesting track and it shows that we can expect uncovering some new musical areas by the band. Fans were intrigued by the track's mysterious title which, at first, seems to contain only some letters randomly put together. However, it is a mirror image of the phrase "Far From Understand" with some additional punctuation.
In early April 2005, the group played three warm-up gigs in Poland (Cracow, Warsaw and Wroclaw) and headed for the Western Europe. Duda, Grudziński, Kozieradzki and Łapaj played two shows in: the Netherlands, Belgium and Germany and one in France and Switzerland. That first European tour was the best proof that the popularity of Riverside crossed Poland's boarders and that there was a chance to make Europe interested in Polish prog scene.
The string of good luck was still with the band. In July Riverside signed a two-record deal with InsideOut - a large record label specialising in prog music. Thanks to this move, the band no longer had to worry about releasing their second album worldwide, its promotion or subsequent tours. Riverside was soon to be listed in InsideOut's catalogue along with Neal Morse, Spocks Beard, Paatos, Pain Of Salvation, Steve Hackett and Flower Kings. Members of the band didn't hide the fact that they felt some pressure but, on the other hand, it seems that they dealt with it pretty well. In December, in an interview preceding the release of the second album, Piotr Grudziński said: The pressure is really huge. None of us ever expected that "Out Of Myself" would be so successful. Now it's a really hard task to maintain the same level, surprise and prove that "Out Of Myself" was not a one-off thing. Mariusz Duda was of similar opinion: We feel the pressure because we know that it's a crucial moment in our careers. Either we prove this album that we are an original band that has something to say thanks to our music, or we don't.
After coming back from the European tour, the band had to face the task of recording the second album. They had, however, the right to feel comfortable as they had already played live some of the new songs. During their live shows they were already performing new compositions, such as a part of a new suite (later it became the first part of "Second Life Syndrome" track) and "Volte Face". The sound of those new tracks backed up Duda's words that the new album would be heavier. Another new track, Reality Dream III, was also a staple of live shows so it seemed that the bulk of new songs was already composed. In an interview in September, Michał Łapaj admitted: Before entering the studio, we had about 90% of material ready. All we had to do was to add some loops and samples into those songs.
Riverside entered the Serakos studio in July and wrapped up their work by the end of August. The effects of their work were handed to Mr. And Mrs. Srzednicki who produced the album and Jacek Gawłowski who took care of the mastering. Worth mentioning is the fact that the cover for this album was created by Travis Smith who previously worked with bands like Anathema, Opeth or Katatonia. The recording and production of the album went without any problems so the new record, eventually titled "Second Life Syndrome", was released in early autumn 2005. First copies were delivered to fanclub members on October 31. The record was released by InsideOut at the same time all over the world.
After – an atmospheric start of the album. It opens with a mysterious, sinister whisper. Then the foreground is taken over by Duda's vocals and a somewhat hypnotic rhythm of the drums. Nice short solo by Grudzień.
Volte Face – a very dynamic rock tune with a long instrumental part at the beginning. Then it slows down for a while just to explode at the end with a wall of sound. Definitely progmetal.
Conceiving You – to slow things down and as a contrast to the previous one. Nice and short ballad based on a piano and with subtle vocals. It was also released as a single.
Second Life Syndrome – over 15 minutes of a musical feast. An amazing suite consisting of three parts. It starts with a beautiful, lyrical, gilmourish lick played by Grudziński, then a fast part of the song with a disturbing guitar riff that leads to a wonderful, melodic chorus. The second part is more mellow with Łapaj's piano in the foreground. The whole thing concludes with a nice instrumental part.
Artificial Smile – a far simpler composition, full of metal fury.
I Turned You Down – a mellow one. A more traditional song format with a nice solo by Grudziński.
Reality Dream III – the third part of "Daydreaming". More disturbing and darker than the previous ones with a demonic piano solo and a heavy guitar part.
Dance With The Shadow – after the title track, it is the second long and complex composition on the album. It lasts almost twelve minutes and contains so many ideas and emotions that other bands could record an entire album based on just this one track. What we have here is the darker and more aggressive side of the band. It is very representative of Riverside's music.
Before – just like in the case of the debut, this record also slows down towards the end. At first, "Before" gives a similar impression to "OK" that ended the previous album, but here, thanks to the guitar it gets really interesting and dramatic. It concludes with Duda's penetrating scream.
The Piece Reflecting the Mental State of One of the Member of Our Band – an instrumental track that did not make it to the album. It's included on "Conceiving You" single. Fast, aggressive with an interesting guitar melodies. A staple of early shows when it was played as an encore. Like the title says, it was supposed to reflectthe mental state of one of the group's members.
Many doubts were dispelled on "Second Life Syndrome". Riverside proved that they aren't a one-record band – they managed to handle the pressure easily and recorded an album very different from their debut, yet equally good. On "Second Life Syndrome" the band is even braver and more self-confident in what they do.
While listening to this album one can witness two opposite poles of the band's style. Delicacy, melody and subtle solos on the one hand ("Conceiving You", "I Turned You Down"), and aggression, darkness and a truly metal heaviness on the other ("Artificial Smile", "Dance With The Shadow"). The band, however, reached their height when the musicians managed to find an ideal balance between those opposites in the title track. It is this over 15-minute track that defines Riverside's style and it is hard to say whether it is still art-rock or already prog-metal.
It was this long suite that contained most characteristic features of the band. We have beautiful guitar and keyboard melodies, we have aggression, delicacy, subtlety, long solo passages, a great and melodic chorus as well as the concluding instrumental part. Is it even possible to join all those things? Well, for Riverside it is.
The reviews were once again very positive. Łukasz Wiewiór wrote for "Teraz Rock": On "Second Life Syndrome" the guys rock hard like never before, of course within the progressive rock style. It took them some time to gather up as the expectations were quite big. The result is a record that's much heavier than "Out Of Myself" and equally good. The record earned 4 stars.
The reviewer from Mystic Art also wrote a warm and positive review: It's an album that's a pure pleasure to listen to. This music relaxes the listeners blissfully and eases their minds (…) then it hits it more dynamically (…) the whole thing sounds brilliant. It's a record that the whole Polish music industry should be proud of. If someone still had any doubt after such an enthusiastic review, the final grade said it all – 10 out of 10. Equally positive were the reviews in the foreign rock and metal press. The Germans and the Dutch were especially eager to write about "Second Life Syndrome".
The listeners' appetite was extremely whetted but surprisingly, the band planned only one Polish gig in 2005, concentrating on festivals abroad. The only promotional gig took place on 17 November in Poznań's Zeppelin Hall and gathered around 800 people. This number included fans from all over the country, as aside from the locals, the gig was also witnessed among others by a large group of fans from Wrocław and by many fans from Warsaw, who came to Poznań in a hired bus. It was worth it as the band played for over two hours that evening and, although it was the first gig after a longer break, it proved the band's constant development.
The gig was great according to Bartosz Donarski from "Mystic Art", who wrote in his review: The concert was a show of four actors with a natural talent. It was a natural joy of playing and meeting their fans. But the most crucial thing is that the music I knew from the records worked great live. As I was leaving Zeppelin Hall I thought that it was one of those moments that serve as a reward for someone working in music. A proof that music has a deeper meaning.
Polish music press and the listeners praised the band for its work in 2005. As much as five journalists from "Metal Hammer" mentioned "Second Life Syndrome" in their lists of 10 best records of the year. Even more gracious were the readers of "Teraz Rock" who put the band in top 10 in five different categories. Mariusz Duda was placed seventh among the best Polish singers, Piotr Grudziński was ninth among instrumentalists, "Conceiving You" was named the sixth best hit and the band itself got the second spot in the Band Of The Year category (leaving behind such popular bands as Myslovitz and Kult!) Apart from that, the band won an award for the biggest hope for the future (defeating Coma, among others). Mariusz, Grudzień, Mittloff and Michał had every right to feel satisfied.
For those who were not able to see the band in Poznań, Riverside announced a big tour scheduled for April 2006. The band planned to visit Polish cities (e.g. Wrocław, Cracow, Gdańsk) in the first half of the month before embarking on a European tour in the second half of April. As usual, the band had shows scheduled in Germany and Benelux, but also for the first time the band visited Madrid, Paris and Nitra (in Slovakia). "Second Life Syndrome Tour" ended with a gig in Proxima, Warsaw in early May. Thanks to an agreement with Empik (Polish commercial chain selling books and media products), the band was able to meet their fans and sign autographs before the shows.
During the tour, Riverside played a varied set of songs that usually lasted for about 2 hours. The opening song was a five minute instrumental piece titled "Back To The River" which included some bits taken from Pink Floyd's "Shine On You Crazy Diamond". The rest of the show, however, was filled with the group's original compositions known from the band's three releases. Almost the entire debut album was played with only "In Two Minds" left out. Also the long-absent "OK" made it back to the setlist. "Second Life Syndrome" was represented by six or seven compositions. The only thing played from "Voices In My Head" was, as usual, "Acronym Love". "Volte Face" was omitted, which was a surprise, as this track is considered to be one of the strongest moments of the second album. But the listeners that attended those gigs in April and May had nothing to complain about. The sound was better than ever, so was the lightning that supplemented the songs and emphasized their climate.
This tour concluded with a show in Proxima on May 7, but it was not the last show that year. Only three weeks later the band started a series of open-air European festivals playing, among other places, at Tiana Prog Fest in Barcelona, Arrow Rock Festival in Lichtenvoorde (the Netherlands) where they performed alongside big artists like Roger Waters, Porcupine Tree, DIO, Deep Purple and Status Quo, and at Castle Party in Bolków. The most important gig, however, took place in USA, where the band played for the first time. On June 24 Riverside was one of the bands playing at the prestigious Nearfest Festival. On this day both the musicians and the organisers could finally say "all is not lost that is delayed" as the band had been invited to play a year before but some problems with obtaining visas had then prevented the band from debuting in America.
Autumn 2006 was also filled with live shows. Between September 14 and October 3, the band played a short tour called ProgmetalFest (along with Vanden Plas and Aurora Project). The tour included seven gigs in the Netherlands, Belgium and Germany. Polish fans got the band back in October when a second leg of Polish "Second Life Syndrome Tour" took place. The setlist was slightly different from the spring one. "OK", "Reality Dream I" and "Before" were dropped and "Volte Face" made it back into the setlists.
Out Of Myself
Out Of Myself
The story of Riverside began in Piotr Kozieradzki's car while he was travelling with Piotr Grudziński. An idea was born in their heads to play neoprogressive music. This idea later materialized in the form of a new band – Riverside. At that time, Grudziński was playing the guitar in a metal outfit Unnamed, while Kozieradzki was playing drums in death metal bands Hate and Domain. To the surprise of Grudziński, "Clutching at Straws", a song by a neoprogressive group Marillion, was being played through Mittloff's car speakers. It turned out that they were both interested in progressive music and would both like to have a try in this genre. A suggestion to meet at a rehearsal was put forward and it came off some months later, in late 2001.
Another person that took part in that rehearsal was Jacek Melnicki – a keyboard player that owned his own recording studio. That first jam session was allegedly not too inspiring but the second one changed everything. Melnicki brought in a new musician – bass player Mariusz Duda. From this point, the newly-founded project was a quartet what is even more important, during one of the rehearsals that followed Mariusz revealed his vocal talents. The other musicians liked his vocal improvisations used in then-still-instrumental early musical sketches and Mariusz became simultaneously a singer and a bass player.
Mariusz Duda was the last part of a jigsaw that completed the first line-up of the band. He did not need much time to prove how valuable he become to this new band. The moment he started to sing, it was obvious that he become a very important member of the band. Being a singer and a bass player, he would soon find himself to be the focal point of the band and its leader on stage. Before joining Riverside, Duda had already been a versatile musician. Apart from the bass guitar, which he played proficiently, he could also play keyboards and the guitar. I play several instruments but the two I love the most are the acoustic and the bass guitar – he told a journalist from "Mystic Art" magazine – I compose using an acoustic guitar. In the band I play the bass because I love the rhythm. This instrument has also other advantages according to Mariusz: depending on musical genre and the song's overall mood, the bass can be used in many different ways, e.g. it can control the whole situation.
The musician explained his versatility and his choice of the bass guitar in one of the interviews:I was never able to concentrate on just one instrument. I was always more focused on composing than on perfecting my playing skills on any of the instruments I was playing. Over time, it turned out that I had the biggest confidence when playing the bass guitar. I liked Geddy Lee's or John Wetton's playing.
Duda, as befits a searching artist, listened to a wide variety of musical genres and as he admitted: restricting myself to one musical style would be unthinkable. That is probably why progressive rock was the most important genre for him – a genre with hardly any limitation. On the list of his favourite albums, we can find highlights of progressive rock's history. When asked about his favourite albums, Mariusz lists the works of 70s giants Genesis and Yes, neoprogressive seminal band Marillion as well as the most important band of modern progressive music – Porcupine Tree. Apart from these, he also mentions albums by Tangerine Dream, Pain Of Salvation, Dead Can Dance and Vangelis, which serves as a proof of his extensive musical search.
When looking into interviews with Mariusz one may come to a conclusion that singing is somewhere at the very end of the list of his musical interests, dimmed by composing and playing the instruments. In an interview conducted by Maciej Stankiewicz from Mystic Art in 2004 Mariusz explained:singing? It always comes just like that and it doesn't matter whether I sing at the particular time. I've been singing for about 10 years now but it was in Riverside that I learned how to use my voice properly. I never had any vocal lessons. But it is the vocal that became one of the most impressive parts of the band's compositions, a crowd-pleaser, its distinctive feature. High vocal abilities of the singer were clearly heard as early as on the first demo. Duda could easily generate anxiety, create an overall climate or simply, without any needles ornaments, tell a story. Delicate melodic singing was just as easy for him as strong, metal-style roar.
It is worth mentioning that Duda is the only member of Riverside with any progressive past. In the 90s he was a member of Węgorzewo-based progressive band Xanadu (an album "Wczorajsze Ślady" from 1996) in which he was a keyboardist. He reflects on that period: It was a great school of playing the instrument and working in a band.This band from Węgorzewo never really took off and its rarely available recordings have become a sort of curiosity among Riverside fans.
Piotr "Grudzień" Grudziński was already an established guitar player at the time of founding Riverside. For ten years he was the guitar player in Warsaw-based metal band Unnamed. Despite not achieving any spectacular success, this band released two LP's – "Id" and "Duality", which gained them some respect among the metal community. Unnamed played music that can be classified as doom/death metal.
Perhaps he would still be a member of that band if it wasn't for his desire to search through new musical areas. This search drew him away from metal, which he described in 2003 with these words: I've never been attracted by its brutal side. I've always been searching for melody, climate, space and this sense of mystery and eventually witch I came across when listening to Anathema. Each and every of their albums is a trip through melancholic wilderness, every sound drips with emotions – and added – I've been always searching for sounds that can go straight to your heart. That's why I've always admired David Gilmour who always hits the spot with only a few sounds.
Grudziński, with his metal verve and his desire to search for emotions, was an amazing candidate for a modern style prog guitarist. He began using his potential in Riverside from the very beginning. His skillful play with emotions could be easily heard as early as on their first demo. Hypnotic riffs on one hand, crunchy metal licks on the other, all spiced up with beautiful gilmourish melodies and solos. Piotr explained the diversity of his guitar's sound this way: the reason for this is that people are obviously touched by different emotions, both positive and negative. We want to express beauty as well as darkness, harmony and anxiety.
The list of Grudzień's favorite albums is long and, similarly to Duda, it shows a wide variety of his interests. The first spot goes obviously to Anathema, which followed a similar path to Grudziński – from metal to atmospheric rock. Piotr mentioned some bands from outside the progressive genre – Dead Cam Dance, Depeche Mode, Cocteau Twins and Seal. The list would not have been complete without records by Pink Floyd, Porcupine Tree and Pain Of Salvation. Piotr also mentioned Marillion's "Fugazi".
From the very start, Grudzień was positive about the new challenge:Riverside is by all means a full-time band and to be honest, I have high expectations for it. I believe it's a band that I've always wanted to be a part of, where I can fully realize myself and learn a lot. It's hard not to believe those words when you see the satisfaction he gets while performing live. Grudziński feels at home with Riverside's fusion of art rock and prog metal.
Piotr 'Mittloff' Kozieradzki is a well-known and respected figure in the world of death metal. Long before founding Riverside, Mittloff earned his reputation as a gifted drummer. In early 90s in Warsaw he founded Hate – a death metal band. Later he joined Domain – a group from Łódź playing similar style of music. He was a member of both those bands in the 90s and at the beginning of the 21st century. He worked with Domain for a short time still after founding Riverside.
Kozieradzki was always interested in heavier sounds. It did not prevent him, though, from discovering Marillion back in the 80s. It became his favourite band and their 1994 album Brave had for a long time "no competition", according to his words. And so, while he listened to Slayer, his soul fell in love with progressive music. Apart from Marillion, Piotr was also very much into heavier prog – Dream Theater, Pain Of Salvation and Porcupine Tree.
Hate drummer hardly ever spoke about his inspirations and few knew about his love for Marillion. However, it was in Mittloff's car that the idea for Riverside originated. Right after my first conversation with Grudzień about the band I knew that was it – he says about that memorable drive with Grudzień and after a while he adds:after our first rehearsal with Mariusz I knew that it would be the only band which I would be 100% in. And so it happened. In 2003 the only band Piotr Kozieradzki was still a member of was Riverside – a band fulfilling all his dreams:It's the first band in which I feel I'm alive. It has all that my previous bands lacked. Cool music, climate, the people and overall involvement not just on my part.
The change of musical genre obviously influenced also Mittloff's playing style. In a progressive band there is no place for the tempo and aggression present in death metal. Kozieradzki slowed down, he concentrated on his technique and varied emotions. However, that doesn't mean he got rid of all his metal characteristics. There was no need for it as his playing style fitted perfectly in Riverside's somewhat progmetal sound. This change was good for him as he admitted in one of the interviews that: it's only now that I really started to play.
In 2002 Kozieradzki, Grudziński, Duda and Melnicki, already as Riverside, made their first serious steps. They performed live twice with their own material and in October they entered the studio to record a promotional demo. It was released in March and it gained a lot of attention in the music industry.
Demo, entitled Riverside, was the quartet's first sign of future success. The record contained 5 compositions – "The Same River", "Out Of Myself", "Reality Dream", "Loosing Heart" and "The Curtain Falls". The tracks served as an early example of the band's already big potential. They marked their wide musical territory clearly stating what might be expected from the band. They revealed their inspirations and at the same time declared their desire to look for innovation and develop the band's own style.
300 copies of the demo were gone almost immediately. The band sent them to radio stations and record labels but the bulk of it was given to their friends and the audience that came to their spring show in Kopalnia club in March 2003. Then the music spread thanks to cd-recording devices. The demand for their music grew bigger and so it was time to record the first full album.
News of a fresh, promising band spread. Metal Center was one of the first to discover their potential. They published a review of the demo recordings in which they wrote: I would be very confused if this record wasn't known outside this country very soon… and I want more! This music is addictive.The band itself was sure there was a demand for rock music with climate and metal verve. They had to write more songs and go back to the studio to record their first proper LP.
Despite having six finished songs (five used on the demo + "Reality Dream II") and almost 45 minutes worth of music, the band had to work hard on their recordings. The LP didn't see the light of day until December 2003. At that point it was clear that only three musicians were fully involved in the group's work. Keyboard player Jacek Melnicki was not able to devote the amount of time needed and it became obvious that the first personal changes were ahead.
The LP was recorded with the old line-up but in a new studio with Magda and Robert Srzednicki mixing all the tracks, including the ones from the demo CD. New compositions – "In Two Minds", "I Believe" and "OK" balanced the album and showed a more delicate and acoustic side of Riverside. The debut album, eventually entitled Out Of Myself, was released as a concept-album, as it was decided by Mariusz Duda who wrote all the lyrics.
The Same River – great opening. Characteristic art-rock suite full of climate. It develops slowly but consistently, deliberately building up the hypnotic mood. This mood changes many times. We have the first examples of Grudziński's guitar and Kozieradzki's drumming skills. Good job also by Melnicki on keys. Last but not least, great vocals by Mariusz Duda, soon to mesmerize thousands of ears. The entire song lasts for 12 minutes but it's so full of emotions and melodic and rhythmic ideas, that it doesn't seem lengthy at any point.
Out Of Myself – decidedly shorter, lasting for less than four minutes, built around a simple, yet outstanding riff. It opens with a hypnotic verse whispered by Duda ("voices in my head"). It is a result of the group's progmetal influences.
I Believe – it shows the softer side of the band. The melody is led by Duda and his acoustic guitar. It was rearranged for live performances.
Reality Dream – in contrast with the previous composition. It is instrumental and demonic Riverside. It opens with a minute worth of psychodelic and disturbing sounds followed by a quick keyboard motif. There's a strong, heavy bass sound and an outstanding guitar solo by Grudziński. Definitely progmetal.
Loose Heart – released as a single. It appeared on the demo CD as "Loosing Heart". It's something shorter and more like a traditional song. It starts with a nice melodic riff by Grudziński and concludes with Duda's scream and Kozieradzki's heavy thump.
Reality Dream II – The second part of "daydreaming". It starts with Mittloff's characteristic drum lead-in. Repeated distressing motif creates a demonic ending.
In Two Minds – again, the melodic side of the band. Duda's elevated voice in the front with a nice keyboard background.
The Curtain Falls – eight minutes. First a nice melody, then a hypnotic, bass-driven instrumental part. Along with "The Same River", this is probably the most interesting composition on the album showing a whole range of the band's moods and abilities.
OK – the album mellows towards the end. It is the most subtle of all the ballads on the album, supplemented with the sound of a trombone. It ends with a very short, hidden piece of wordless vocals.
"Out Of Myself" was surprisingly mature and coherent. Members of the band were of course no beginners but it should be noted that only Mariusz Duda had anything in common with art rock and progressive rock before. Therefore, in a sense, "Out Of Myself" was a debut for Kozieradzki, Grudziński and Melnicki. Nevertheless, the album is not a collection of random tunes. This CD from the very start up to its final seconds tells a story, both in the lyrical and musical sphere.
Lyrical concept was created by Mariusz Duda. It tells a story about human struggle, his failure and subsequent attempt at coming back to life in a society. "The Same River" is an attempt at coming back to the same life again. In the last song – "OK" – the character in a sense comes to terms with himself. Duda points out an excerpt from the text: there's sadness in my mind, ok, which serves as a declaration of accepting one's own sadness.
Lyrical coherence was easier to achieve as it was the singer who wrote all the lyrics alone, but musical coherence had to be achieved by all four members of the band and the success was not all that easy and obvious. It is one thing to write eight good songs, but writing them so that they fit like eight parts of the same story is another thing. Riverside succeeded even though at that point they've been a band for slightly over a year.
Another success was taming their own musical inspirations which, although heard on "Out Of Myself", are not brazen enough to accuse the band of ripping off other bands. Certain names of other bands appeared in the reviews: Pink Floyd, Porcupine Tree, Anathema, Marillion or even Dream Theater, Tool and Pain Of Salvation. All those names are more or less appropriate when describing Riverside's music but the crucial thing is that the quartet headed for their own unique sound from the very start.
When listening to "Out Of Myself" it is hard not to believe Mariusz Duda, who said in an interview for Mystic Art: from the start we decided that we would try to distance ourselves from certain hackneyed patterns, that we would ignore our inspirations from the bands that every new progressive rock musician tries to copy. And even though in another interview he said about "The Same River": We know that we play something that's been played before – it's still subtle enough not to spoil the sincere pleasure of listening.
The reception the CD got exceeded any expectations. The album sold very well for a non-mainstream genre and the reviewers were almost unanimous in their positive opinions on the release. "Rzeczpospolita's" reviewer announced: progressive rock is alive! We have a brilliant Polish debut. Then he pointed out the band's versatility: Riverside can record a great ballad ("I Believe"), heavy-rhythm track in Dream Theater's style ("Out Of Myself" and "Reality Dream") as well as a complex composition built around a great melody ("The Curtain Falls"). "Teraz Rock's" journalist was no exception giving "Out Of Myself" 4 out of 5 stars and writing: what we have here is a promising piece of music, certainly interesting for every fan of Pink Floyd or Purcupine Tree. There were many more positive reviews, from those saying about hope for the future, to those already putting the band at the artistic top. Without a doubt, it was a success.
The band knew that they should embark on a tour in order to promote the record properly. Those plans, however, had to be put off because right after the release of "Out Of Myself" the group had to find a new keyboard player.
In 1999 Jacek Melnicki opened a recording studio DBX and despite good perspectives for the band, it was the studio and its proper functioning that was still a priority for Melnicki. On the other hand, the group required more and more time and involvement. It was no longer possible to divide the time between the studio and the band in a way that would keep everyone happy. A replacement had to be found. The vacancy was soon taken by young and talented Michał Łapaj.
Michał and his new band quickly started speaking the same language, although Michał admitted to be sceptical at first: When I got the CD from Grudzień with an offer to join I thought: another project, another bunch of guys with 'huge' ambitions and fantastic ideas for the future. But when I listened to the album I had no more doubts. I just had to be in that band.
The line-up change went smoothly. Michał turned out to be the right person in the right place. Young, not as experienced as Grudzień or Mittloff, but with strong desire to succeed, full of faith in music and, obviously, very talented. He used to play a C flute and attend classes in The Institute Of Organ Playing. From his early years, he was much into music which was very much present at his home. The organs were his favourite instrument. Among his favourite artists he mentions Genesis, Yes and Deep Purple and number one on the list is his idol Jon Lord, to who he attributes inspiring his love for the organs.
Michał quickly understood that Riverside was his way to the top. "Out Of Myself", which he got from Grudzień, made a huge impression on him. Nevertheless, it was only after his first rehearsals with the band, during which it appeared that they shared mutual understanding, that he could happily admit: I finally have a great band! Although I haven't played with them for too long yet, I feel like we've been doing this for years. Riverside is the aim of my perennial pursuit. A river of ideas from which I fish out sounds that make my soul happy. It is my place in music.
The new member of the band quickly learned their songs and by the beginning of March the group was ready to play their first gigs. During their two concerts at Warsaw club "Progresja", they were applauded by more than 500 people which is a very good number for club gigs. One of the shows played in March was reviewed by a reporter from rockmetal.pl: I think nobody expected such an amazing performance. The four musicians played some wonderful, truly beautiful and sometimes calm tunes that had their whole hearts put into. This music is a true poetry inspired by Pink Floyd, Marillion, Porcupine Tree and some progmetal bands. Fantastic musical landscapes, brilliant keys and marvellous guitar parts – I'm trully speechless, it was amazing. Of course, the audience welcomed them warmly and didn't hesitate to cheer and clap their hands.
Another gig took place in "Kolor" club in Wroclaw on March 27. From that evening, the capital city of Lower Silesia became the band's second home for a long time. The reception was great. A reporter of artrock.pl wrote about that evening: The reaction for the first track exceeded my expectations. Euphoria. Chanting the band's name. And it stayed this way until the end, it didn't matter whether they played tracks from "Out Of Myself" or newer compositions. Many people knew the lyrics and sang with Mariusz, one of the examples being the single "Loose Heart" or the title track from the debut album.
The band promoted "Out Of Myself" during two countrywide tours called "Progressive Tour". The first of those took place in spring, and the second in autumn 2004. The band played over 20 gigs in the biggest cities, the concerts usually taking place in small clubs for 300 or 400 people. This was also a success, as it needs to be remembered that hardly any Polish progressive band is able to play regular tours. Another big moment for the band was the opportunity to open for Anathema in Bydgoszcz (club "Kuźnia").
Wroclaw was one of the cities that hosted the band both in May and in October. The gig in autumn was especially unforgettable thanks to its atmosphere. The audience that filled the "Diabolique" club liked the music so much that they requested four encores from the band. Duda, Kozieradzki, Grudziński and Łapaj played for over 90 minutes until they simply ran out of songs. So, for the 4th encore, the band played "Out Of Myself" for the second time that evening. It is worth mentioning that apart from their own songs, the band performed a cover of Porcupine Tree's "Radioactive Toy".
It was obvious from the start that if the band wanted to survive, it had to attract attention in Western Europe and America. Even the best band may not survive playing this kind of music only in Poland. About nine months after its Polish premiere, on September 21, 2004 "Out Of Myself" was released worldwide under the Laser's Edge music label. Positive reviews in the foreign music press encouraged the band to set up a small tour outside Poland.
The second album was first planned for early 2005. Unfortunately, the reality was slightly different. The band needed more time to write new songs. The musicians knew how high they set the standards with their debut. The follow up to "Out Of Myself" had to be at least equally good, but different at the same time so that the band would not be accused of copying their own ideas. In the meantime, Mariusz Duda came up with an idea to continue the story told on "Out Of Myself". We could hear the first declarations – the second album was to show the heavier side of the band and continue the lyrical concept of the first album. It was also decided that the debut album as well as its follow up would be a part of a trilogy called "Reality Dream". The second album was to be released in autumn 2005.
Maurycy Nowakowski
translated by Marta Grześkowiak & Jakub "Bizon" Michalski
proof-reading by Marta Grześkowiak
(This text contains information, interviews and reviews previously written for and found in the following newspapers, magazines and portals: "Teraz Rock", "Metal Hammer", "Rzeczpospolita", "Mystic Art.", artrock.pl, rockmetal.pl, onet.pl, riversideband.pl, Metal Center)